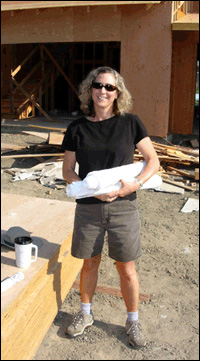 Services Provided:
Julie will work with you to transform your existing home or design the custom home of your dreams. Services provided by JMH Architecture include: helping you determine the feasibility of your project, evaluating your options, establishing your project budget, helping you select finish materials, assisting you in selecting a contractor of your choice, providing an interface with the construction process in order to help make the building of your project and efficient and enjoyable experience. A range of services that can be tailored to fit your project needs, include:
Hourly Design Consultation
Full Service Design:
Site Planning
Schematic Design
Design Development
Basic 3-D modeling
Selection of Finish Materials
Lighting Design
Construction Documents
Bidding & Negotiation
Construction Administration
The Design Process:
During the initial meeting we will establish the scope of your project and determine if we are a good fit. From there we will work together under an hourly contract to develop a schematic design. The goal of the schematic design process is to identify a design direction and establish a construction budget. After the schematic design and an outline of the desired finish materials are completed, we will have 1-3 contractors provide an estimate of the probable construction cost of your project. From my experience, having an estimate at this point is a valuable tool for maintaining control on your budget. Typically, once the design direction and budget have been established JMH Architecture will continue design services with a fixed fee contract to complete the working drawings, which will be used for permit submittal and bidding/construction documents. During Construction I will observe construction for its compliance with the design intentions as described in Construction Documents.
Remodeling or building a dream home can seem overwhelming for most people. I feel that the benefits of investing into one's home can be very rewarding. It is my goal to help facilitate the most enjoyable design and construction experience possible for my clients.